Plan Participants Gateway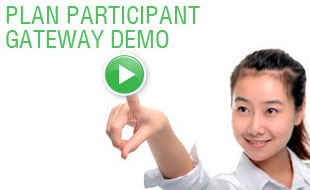 Please click the image on right to see the Plan Participant Gateway. This is a live demo, with updated and current mutual fund prices. This Gateway gives you a solid "hands-on" experience of what your employees will use to manage their 401k investments online. participants can review past and current investments, change their investment line-up, apply for a loan, hardship, or in-service distribution, update beneficiary and other personal information, change their password, send the plan sponsor a confidential email, and download and print-out a current statement.
Participant gateway: Introduction to self-service plan participation
401k Easy empowers plan participants to serve themselves to their 401k account activity and information, which they can do at any time, day or night, from any location connected to the Internet.
401k Easy self-service plan participation gives eligible employees on-the-spot access to enrolling in the plan, updating personal information, making and updating investment designations, viewing and printing activity reports and account statements, and 401k loan, transfer and distribution modeling and submissions, among other things.
General as well as plan-specific investment information is available at a mouse click.
Self-service plan participation is extremely convenient for plan participants and can greatly boost plan participation rates.
Self-service plan participation means far less work for your in-house plan administrator.
401k Easy creates a home page for each plan participant. Upon login, the participant arrives at his or her home page.
As plan sponsor, you can have 401k Easy display certain categories of information on each participant's home page, for instance, the participant's investment designations, account balances, and/or recent account activity.
As plan sponsor, you can compose Bulletins via your Plan Sponsor Gateway for posting on employees' home pages. (Scroll up or use the middle tab in this page's topics menu to read about 401k Easy's plan administration features, which are accessed via the Plan Sponsor Gateway.)
Participants update information themselves
Plan participants never have to involve your plan administrator in routine account information updates:
Plan participants, after logging into their customized section of your 401k plan's Plan Participant Gateway, can update their personal information themselves, online, at their leisure. Participants can amend their address, telephone number(s), disbursement preferences, passwords, and more. 401k Easy immediately notifies your designated plan administrator via e-mail of any changes.
As plan sponsor, you can elect to mandate that a designated party (likely your in-house plan administrator) approve changes before they can become effective.
Participants update investment designations themselves
Plan participants never have to go through your 401k plan administrator to access and/or amend salary deferral rates and/or investment designations.
The participant's customized Plan Participant Gateway displays available plan investments and indicates those to which the participant is contributing and at what rates.
The participant can, at any time, opt to amend his/her designations.
Your company can elect to mandate that your 401k plan administrator approve changes before they become effective.
All investment and salary deferral designations are restricted within 401k Easy by rates allowable under the current federal law.
Participants monitor, model and apply for loans, transfers and distributions themselves
Plan participants never have to go through your 401k plan administrator for transaction information on existing loans, transfers, distributions, etc.. Instead, they simply go online and access the information themselves.
In addition, participants considering a new loan, transfer or distribution can have 401k Easy model the effect of such on their 401k account:
During the modeling process, 401k Easy calculates the availability of funds based on money sources, aged buckets (if applicable), and other applicable rules.
To accept a new loan, transfer or distribution, the participant must correctly answer one of the security questions that the employee established in setting up his or her Log In name and Password.
New loans, distributions, and transfers must be approved by the 401k plan administrator and are indicated as Pending until so approved.
401k Easy gathers all the information the 401k plan administrator needs to approve or deny an application.
You can elect to have 401k Easy automatically decline any new submissions for loans, transfers or distributions if an application for such from the employee is already in the system as pending approval of your plan administrator. This works as a safeguard against plan participants flooding the system with applications for the same transaction while the plan administrator awaits, for instance, consent of spouse approval.
Within the Loans, Transfers, and Distributions panel, the participant also has the option of downloading and/or printing necessary forms to request loans, distributions, and transfers in person from your 401k plan administrator and to manually perform other related account maintenance activities.
Participation is more than simply password protected
Plan participants enter the Plan Participant Gateway by keying in the user name and password they establish during their first visit.
Your 401k plan administrator issues a temporary password for that first visit to allow an employee entrance into the system.
Eligible employees not currently enrolled in the plan can easily be granted temporary passwords by your 401k plan administrator so they can learn about the company 401k plan, investigate the online self-service system and see how easy saving money via the company's online 401k plan will be.
When establishing their user name and password, plan participants also establish three identifying questions and answers, such as "Mother's maiden name?" answer: "Johnson." The questions are later used to confirm the participant's identity when the participant attempts certain transactions (for instance, applying for a 401k loan, or retrieval of his/her password).
The system houses a log of each employee's user name, password and three questions/answers within the Plan Sponsor Gateway. Plan participants can request help from your 401k plan administrator (via the 401k Easy, in person, by phone, etc.) at any time.